Castor Oil for Pigmentation I DIY Recipes
Castor Oil for Pigmentation
Castor oil has been lauded for being a potent remedy for the first signs of illness to an accorded method for boosting natural immunity. Being at the core of all traditional and cultural solutions since time immemorial, castor oil has been exclusively acclaimed in the Indian Ayurvedic medication. Offering a huge array of benefits, castor oil has proven to be a long-standing remedy for skin pigmentation. 
Castor Oil is a non-volatile fatty vegetable oil that is derived from the seeds of the castor bean plant, commonly known as castor seeds. With its advantages being conspicuous, Castor has been one of the oldest cultivated crops. Commonly produced in India, Brazil and China, its oil is pale yellow in colour and essentially used topically on the skin. Enriched with humectant properties, it is considered apt for drawing and retaining moisture into the skin which inevitably reduces dryness, sunburn and eczema.
Possessing huge amounts of Ricinoleic acid, anti-oxidants and Omega-3 fatty acids, Castor Oil has been accredited for its benefits on the skin. This oil is home to essential nutrients and vitamins which benefit the skin with their anti-inflammatory and anti-oxidant properties that reduce pigmentation to increase skin whiteness.
What is Skin Pigmentation?
To put it simply, pigmentation refers to the skin's colouration which is determined by the amount of melanin produced by skin cells. Melanin refers to the agent which is responsible for skin's natural colour. Essentially, this condition is characterised by the appearance of black patches or spots on the skin which are a result of damaged melanocytes that are responsible for the production of melanin. Damaged melanin leads to the formation of dark spots. Hyperpigmentation is the scientific term used for pigmentation leading to these dark spots.
How to get rid of Skin Pigmentation?
Even though hyperpigmentation is completely harmless, one does wish to go an extra mile to reduce it in order to enhance their appearances. Pigmentation does not require expensive treatments for its prevention and reduction as it can be rid just by using nature-derived oils. Essential oils aid significantly as they add therapeutic benefits and induce a soothing effect on irritated skin.
Castor Oil to Reduce Skin Pigmentation
Certain ingredients are considered crucial to preventing and reducing pigmentation, one of which being Castor Oil.
Prevents Dull Skin: Being traditionally rich in antioxidants, its usage is considered vital as antioxidants protects the skin from free radicals that cause damage to our cells. They roam around in the body and cause havoc which inevitably leads to skin pigmentation and dulling of the skin colour.
Potent source of Vitamin E: The activity of free radicals can be restricted by the high content of Vitamin E possessed by Castor Oil which makes it indispensable in the treatment of hyperpigmentation.
Regeneration of skin cells: Packed with fatty acids, especially that of Omega-3, Castor Oil proves to be a magic ingredient for reducing pigmentation as it pierces the scar tissues and pumps it out. Additionally, Omega-3 facilitates in the development of healthy tissue and hydrates the skin to make it supple.
Natural Moisturiser: Among the handful properties that Castor Oil exhibit, it is acclaimed for being a natural moisturiser as it is crammed with a number of fatty acids. The accompanying nutrients form a layer of protection on the skin to avoid harmful UV rays.
Anti-inflammatory: Due the anti-inflammatory nature of castor oil, it inhibits properties to prevent skin ailments and infections as it fights fungus causing skin issues. It also makes the skin look softer and nourished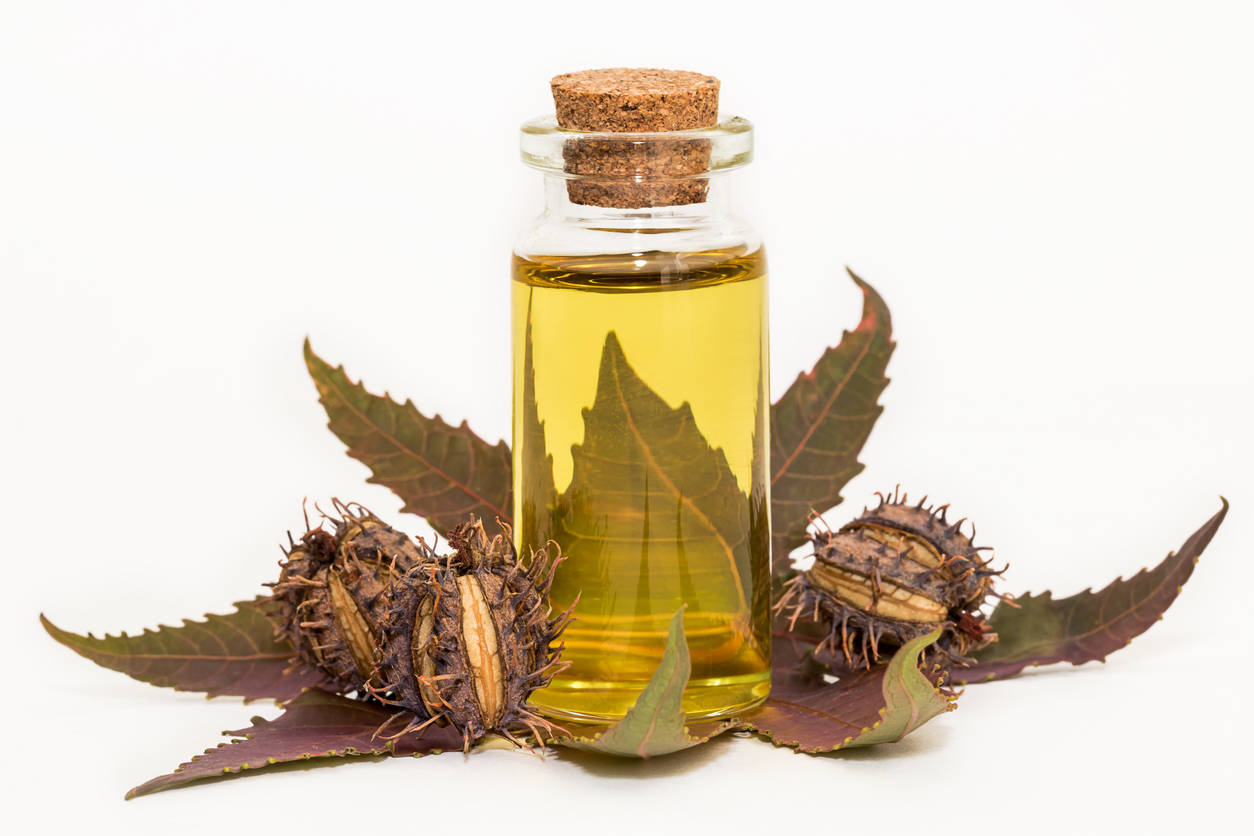 How to use "Castor Oil for Pigmentation"?
DIY's offer creative, useful and productive solutions for reducing skin pigmentation by using natural oils. Making effective use of DIYs offer a platform to infuse organic castor oil with essential oils to maximise the benefits that it offers. Castor oil offers multifarious benefits which makes it an ideal oil for the treatment of pigmentation on any skin type. Needless to say, all the DIYs are made with natural ingredients which makes these recipes chemical free.
Recipe 1: Castor Oil and Turmeric for Skin Pigmentation
Being antiseptic in nature, Turmeric works miraculously to not only get rid of skin pigmentation but also to even out the skin tone. Combined together with Castor Oil, it inhibits and promotes excessive melanin production to reduce dark spots and pigmentation.
Ingredients:
3-4 drops of castor oil

1 tablespoon of turmeric powder
Procedure:
Step 1: Add 3-4 drops of castor oil along with 1 tablespoon of turmeric powder in a bowl and mix them together gently.
Step 2: Once you're done mixing the ingredients together, simply use your fingertips to apply the paste all over on your face.
Step 3: Apply the mask thoroughly and message it gently.
Step 4: Leave the mask on your face for 15-20 minutes.
Step 5: Rinse off with lukewarm water.
Recipe 2: Castor Oil and Vitamin E Oil for Skin Pigmentation
Vitamin E plays a crucial role in making your skin look radiant, vibrant and healthy by reducing inflammation on the skin. Ensuing to the potent antioxidant properties that Vitamin E constitutes, it aids in preventing skin damage and evening out the skin tone. Combined with Castor Oil, it leaves the skin free of blemishes.
Ingredients:
Procedure:
Step 1: In a bowl, mix castor oil along with 4 drops of Vitamin E oil and mix both of them well.
Step 2: After mixing the ingredients together, simply use your fingertips to apply the mixture all over the face.
Step 3: Apply it on your face and massage it gently in a circular and upward motion with the help of your fingertips.
Step 4: Leave it for the next 10-15 minutes, and then rinse it off with lukewarm water.
Recipe 3: Fullers Earth and Castor Oil for Skin Pigmentation
Fullers Earth or Multani Mitti is a commonly used ingredient to enhance the skin texture and gain a lighter complexion. Its benefits include boosting the skin tone and fighting marks and blemishes. It is also acclaimed for drawing away excess oil to make the skin clear.
Ingredients:
Procedure:
Step 1: In a bowl, make a smooth paste by mixing one big spoon Multani clay powder and the same amount of castor oil. Add Few drops of Vitamin E to it.
Step 2: Apply the mask to the face uniformly, spread it from the forehead to the cheek and eventually proceed to the neck area.
Step 3: Leave it to dry for 30-40 minutes.
Step 4: Wash with lukewarm water, pat and apply moisturizing cream because you have a tendency to feel dry in Multani Mitti.
How often to use Castor oil for Skin Pigmentation?
These masks can be used three to four times in a week to achieve the best results. Continue applying this on your skin until you can see visible difference.
Things to Keep in Mind While Using Castor Oil for Skin Pigmentation
Castor oil is not meant to be ingested but only to be applied topically for the treatment of skin issues such as that of hyperpigmentation. If taken orally, it may cause Diarrhea or cramps.

Some people might have allergic reactions to Castor Oil and thus it is recommended that you do a patch test before applying on larger area. 

Ensure that Castor Oil does not enter your eyes, lips or other sensitive areas and it can instantly cause discomfort and irritation. If the oil does come in contact with your eyes, immediately rinse it off to prevent any further damage.
Takeaway
Castor Oil is a conventionally acclaimed tonic for uneven skin tone. Hyperpigmentation can be caused by a number of factors ranging from environmental to certain conditions and diseases. An accorded way of reducing the same is through the application of Castor Oil. It can be combined with other natural ingredients to devise fruitful recipes. The efficacy of the remedies can be witnessed if they're applied regularly over time.
You may also like:
---